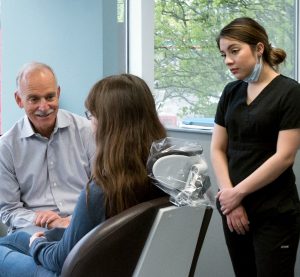 When choosing an orthodontist and seeking professional orthodontic care, we hope that price will not be the primary factor in making your decision. Rather, it should be the experience of the professional and the quality of service.
Orthodontics can shape the experience and quality of your life. Choosing the right orthodontist is very important and that choice cannot be made based on cost alone. It must be noted that while all orthodontists are dentists, not all dentists are orthodontists: only 6% of dentists are orthodontists. You should ensure that the individual providing orthodontic treatment is in fact an orthodontist, because if treatment is not done right, it can take a lot of time and money to fix.
Factors To Consider in Choosing The Right Orthodontist
While we understand that cost will be an important factor in your final decision about where to seek treatment, we advise that you also choose your orthodontist based on these important factors.
Ensure that the individual is a licensed orthodontist. Some dentists who offer orthodontic treatment are not licensed orthodontists.
Choose an orthodontist who is equipped with the latest technology and treatment options.
Ensure that the orthodontist has a credible reputation. Check online reviews or ask previous patients if possible.
Choose an orthodontist that has a clean, organized office and friendly staff. The office atmosphere is integral and can tell you a lot about the orthodontist.
You should always take advantage of initial consultations as they can help you to make the right choice. These consultations can give you a chance to ask the right questions, meet the orthodontist, and hear about the treatment options that are available to you.