Types Of Braces
Because we understand the importance of a healthy mouth and a confident smile, braces have become commonplace. In fact, nearly 4 million people in the United States are wearing braces at any one time. Many aesthetic options exist for orthodontic treatment.
Discovering the Different Types of Braces
If you're considering braces for yourself or your child, you have many options. Your orthodontist will help you make the best choice for your situation, but here are the basics of each type:
Traditional metal braces are made of smooth, polished stainless steel. Today's metal braces are noticeably smaller, more comfortable and hygienic. New arch wires move your teeth more quickly and comfortably than ever before.
LightForce 3D braces are custom-made to fit your teeth perfectly, which means an efficient, more discreet and more comfortable treatment from start to finish. These 3D-printed braces allow for a faster treatment experience and journey.
Clear Aligners consists of a series of customized, clear BPA-free plastic trays (similar to bleaching trays)  that are removable and typically replaced every few weeks to keep your teeth moving in the desired direction.
We frequently use high technology wires that last longer and require fewer adjustments than stainless steel wires.
Most dental braces also involve the use of tiny elastomeric rubber bands to help move your teeth. If you have any sensitivity to latex or certain metals, we have latex free and nickel free products.
Assessing the Pros and Cons of the Different Types of Braces
So, let's look at the advantages and disadvantages of each type.
 Types
Advantages
Disadvantages
Metal Braces
Small, comfortable

Colored elastics

Food and drink restrictions

More difficult to maintain oral hygiene

Requires regular visits

Ceramic Braces
Less noticeable

Allows colored elastics

Fully customized to an individual's tooth shape

More fragile

Slightly larger than stainless steel

Clear Aligners
Nearly invisible
Removable for eating and oral hygiene
Requires patient compliance

Attachments and buttons are often required along with the clear aligners

Case dependent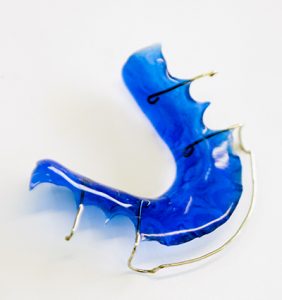 Treatments with both braces and Invisalign typically involve some use of retainers or mouth guards afterwards to maintain the new position of your teeth.
Kids should be evaluated for orthodontics by age 7, according to the American Association of Orthodontists and the American Dental Association. By this age, your orthodontist can detect even subtle issues with jaw growth and emerging teeth.
While most kids begin treatment between ages 9 and 14, your orthodontist will help determine whether it's best to wait or begin treatment right away. Many orthodontists recommend treatment while your child is still growing because it can take longer and be more intensive to treat teeth after they've stopped growing.
Lastly, kids who receive early orthodontic treatments (like appliances to correct cleft palates) may still need braces later, as discussed in this article on webmd.com. But the early treatment attempts to prevent further issues from developing while providing a healthier environment for the growth of permanent teeth.
Keep in mind that while some dentists perform orthodontics, an orthodontist specializes in treatments with braces and clear aligners having 2 or 3 more years of specialized education and training than is required for a dentist.
Portland Braces will provide the evaluations and treatments you need in an environment designed to put you at ease. Call Portland Braces today to set up your visit.
Hopefully you feel more informed about the types of braces available now and know that you can trust The Portland Braces team to help determine the right treatment type and plan for you.