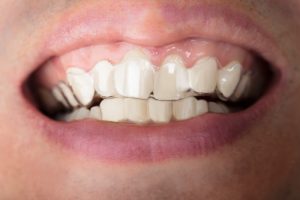 With the development of new technologies, orthodontic treatments have greatly improved over the years as new products enable people to achieve the smile of their dreams in shorter amounts of time.
There are several orthodontic treatment options available to you but how do you know which option is right for you?  Clear Aligners can be a great alternative to traditional braces and here is what you need to know when deciding between the two.
How Do Clear Aligners Work?
Clear aligners are a series of plastic appliances that custom-fit to your teeth. They slide comfortably over the surfaces of your teeth and are worn for at least 20 hours a day. The aligners are removed to eat, brush, and floss. The length of treatment varies on a case by case basis and adults can frequently omplete treatment within one year.
How do they compare to traditional braces?
In terms of cost, clear aligners can be comparable to traditional braces depending on the problem. . They are not suitable for all patients and this can be best determined by the orthodontist.
Aligners are approved for use in both adults and teenagers with permanent teeth. Young children are typically not good candidates for this form of treatment
An orthodontist can determine if you are a good candidate for clear aligners. Read more about types of braces. If you have questions about aligners or traditional braces you should schedule a consult with an experienced orthodontist.